Nine top young fruit growers will vie for the title of best grower in the region at this year's Hawke's Bay Young Fruit Grower competition.
Competitors will be put to the test in a rigorous two day event on 5-6 June at Hawke's Bay A&P Showgrounds in Hastings, which involves theoretical and practical activities, a speech and quiz.
The winner will go head-to-head with four other contestants for the acclaimed Young Grower of the Year 2015 title at the national competition, run by Horticulture New Zealand, in Christchurch on 12-13 August.
"This year we have an outstanding field of contestants. As with every year, the competition will be tough here in the Hawke's Bay. But this is our chance to show the rest of the country that we have some of the best young fruit growers in New Zealand," says Robyn Stallard, co-ordinator of the competition.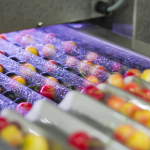 "It gets tougher each year for the competitors because the standard is so high. But we have taken out the national prize before and this year we are optimistic about reclaiming our title," she said.
The competition puts contestants through a range of key tests with various challenges from finance and marketing exercises, designed around the fundamental skills needed to running a successful fruit-growing business.
The nine competitors come from around the Hawke's Bay region:
• Andrew Kearney (26), Senior Leading Hand at T&G Pipfruit
• Anthony Taueki (25), Horticulturalist at Mr Apple
• Balwinder Singh (28), Senior Leading Hand at T&G Pipfruit
• Dale Simpson (21), General orchard maintenance at Johnny Appleseed Group of Companies
• Dillon Green (24), Assistant Manager at T&G Pipfruit
• Hayden Dyer (21), Export Dispatch Officer at Mr Apple
• Jordan James (24), Orchard Hand at Mr Apple
• Lewis Houkamau (29), Orchard Manager at Freshmay Orchards
• Pauly Douglas (29),Orchard Supervisor at Orchard Investments
Robyn Stallard said competitors will find themselves putting everything they've learnt on the job into the challenges. "The competition is tough with competitors needing to bring their best, but the rewards are great. It provides a chance for young fruit growers to be recognised for their expertise, and an opportunity to stretch themselves both personally and professionally".
The Hawke's Bay Young Fruit Grower of the Year 2015 competition will be held on Friday 5 at the Hawke's Bay A&P Showgrounds in Hastings. The winners will be announced at the competition final and dinner event on the evening of Saturday 6 June at Mission Estate Winery.