A young fruit grower from Cromwell has secured first place at the inaugural Central Otago Young Fruit Grower of the Year 2015 competition on Wednesday 27 May.
James Huffadine, who works as a site manager for Parkburn Management, battled it out against five other young fruit growers from Cromwell, Roxburgh and Alexandra for the title.
"Competing against five other growers, who are at the top of their game, was tough. The tests were challenging and diverse and really put our skills to the test," says James.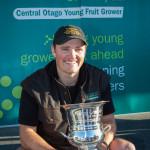 James (23) won a $1,500 cash prize, and as a Young Grower of the Year finalist, he has also won a one-day media and presentation course, as well as an all-expenses paid trip to Christchurch to compete for the national 2015 Young Grower of the Year title in August.
"It's been a real privilege to win the first Central Otago Young Fruit Grower competition and I'm looking forward to stepping up to compete with the other finalists in the national competition in August," says James.
The competition put contestants through a range of challenges designed to test their core skills of running a fruit growing business. These included identifying biosecurity pests and diseases, tractor skills and irrigation.
Grant McKay, competition co-ordinator, said the competition was a great opportunity for young growers in the Central Otago region to demonstrate their skills and knowledge of the industry.
"We're excited to bring the competition to the region and to showcase and help foster the talent we have here. I'm impressed with the contestants and the energy and time they've put in preparing for the competition. All of them should be proud of their performances today," said Mr McKay.
Jack Gilchrist from Willowbrook in Roxburgh took second place and won $1,000 cash, and Jonathan Bates from CAJ Van der Voorts (Hollandia Orchard, Earnsclugh) secured third place with a prize of $500 cash.