Fieldays 2019 was officially opened on Wednesday 12 June by the Rt. Hon. Jacinda Ardern and New Zealand National Fieldays Society President Peter Carr with 128,747 visitors coming through the gates over the four event days.
During the ribbon cutting ceremony, Prime Minister Jacinda Ardern spoke of the strength of our primary industry and its importance to New Zealanders and Society CEO Peter Nation spoke of the role Fieldays plays within it.
"We as an event take our role very seriously in staging a platform that educates and supports those within the industry while attracting opportunities for trade with international visitors," said Nation.
Over 180 volunteers help make the event a success, along with hardworking staff, supportive sponsors and partners, and the 1,067 valued exhibitors that spanned across 1,559 sites throughout the event.
Around 25,000 people came through the Fieldays Health and Wellbeing hub where some important conversations were had around all aspects of physical, mental, emotional, spiritual and social health and wellbeing. People were encouraged to get moles checked, sugar levels tested, general health inspected and to reach out and touch base with friends, family and neighbours who may be isolated in rural communities and could do with a chat.
Northland boy Lewis Nichols won the title of Fieldays Rural Catch from 2019, impressing judges and sponsors with his skills in several of the challenges. While he walked away with over $20K in prizes, his most valued experience was the connections he made with the other contestants throughout the competition.
41 schools attended with over 860 students in their final school years completing the programme within the Fieldays Careers and Education hub. The students were introduced to the plethora of careers on offer in our thriving primary industry.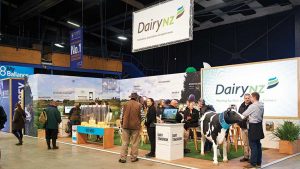 The Fieldays International Business Centre was a hive of activity throughout the event with almost 400 visitors representing 31 countries registering their attendance in the centre. The conversations, connections and meetings that took place here during the four days of Fieldays helped boost our primary industry's output and reputation both nationally and across the globe.
Over 13,900 visitors travelled to Fieldays by bus with over 300 bus trips taking place. Another 856 visitors travelled to Fieldays in the Waikato River Explorer, with 422 catching the Camjet and 143 people arriving by Helicopter. All these alternative transport methods lead to taking a considerable number of cars off the surrounding roads and onsite parking.
The Official Fieldays App this year made it to #1 in both New Zealand's Apple App store and Google Play store and was downloaded a whopping 42,394 times. The app saw over 1.3M app interactions which includes products and exhibitors searched, routes mapped, cars pinned, sites favourited, and timetabled events saved.
54 innovations were introduced into the market or developed further as part of the Fieldays Innovation Awards which saw some creative ideas focussed on strengthening the future of our primary industry. Winners included a platform that finds a solution to finding seasonal workers, a packing and delivery system for intramammary treatments and sealants, a fencepost made from 100% recycled plastics and a water flow indicator.
Eight of the countries best chefs including Peter Gordon, Claire Turnbull, Ray McVinnie and Brett McGregor shared their vast knowledge and experience with visitors to the Fieldays Kitchen Theatre inspiring meal ideas and inciting a passion for using the local produce our primary industry creates.
Other Fieldays staples including Fencing, Tractor Pull, Agricultural Heritage, Excavators, and STIHL Timbersports® provided thrilling competitions to watch throughout the four days with full results on our website www.fieldays.co.nz
2019 Fieldays Fast Facts:
128,747 visitors through the gates (Wed 26,360, Thu 30,842, Fri 40,135, Sat 31,410)
1,067 exhibitors across 1,559 sites
We had exhibitors from 11 different countries
The Official Fieldays App was downloaded 42,394 times and with total metrics sitting at over 1.3M (including searches, saving exhibitors to favourites and pinning cars
13,917 visitors travelled to Fieldays by bus, 856 by Waikato River Explorer, 422 by Camjet and 143 by helicopter
866 school-leaver-aged students from 41 schools took part in the Fieldays Careers and Education programme
391 visitors from 31 different countries registered in the International Business Centre
Around 25,000 visited the Fieldays Health and Wellbeing hub
ABOUT FIELDAYS
Fieldays is based on a 114-hectare site at Mystery Creek 10 minutes from Hamilton and is the largest agricultural event in the Southern Hemisphere.
Fieldays draws people from around the globe – both as exhibitors and visitors. In 2019 Fieldays celebrated its 51st event and saw 128,747 people visit the event across the four days.
Fieldays is run by New Zealand National Fieldays Society, a charitable organisation founded in 1968 for the purpose of advancing our primary industry.
For more information head to www.fieldays.co.nz