A plantain that's helping to solve one of New Zealand agriculture's greatest challenges, nitrogen leaching and its effect on waterways, is winning awards for its developers.
Agricom, a New Zealand based seed company, won the Primary Industries New Zealand, Innovation and Collaboration Award this week for its development of Ecotain®.
Ecotain environmental plantain is a forage herb that can reduce nitrogen leaching on livestock farms by up to 89 per cent. It was also second in the Primary Industries Science and Research Award.
Agricom, New Zealand Sales and Marketing Manager, Mark Brown, said it was extremely satisfying to have the fantastic collaboration around the development of Ecotain recognised.
Plantain started life as a common roadside weed, but Agricom discovered specific lines of plantain which reduced nitrogen leaching from the urine patch of cattle. The company spent a decade on research and development and in 2015, with funding from Callaghan Innovation, established the Greener Pastures Project.
The project brought together expertise from Agricom, Massey and Lincoln Universities and NZ Plant & Food Research to prove the results scientifically.
"We would really like to acknowledge Plant & Food Research and Massey and Lincoln Universities. To find out how effective this product really is for mitigating nitrogen leaching is quite amazing," Mr Brown said.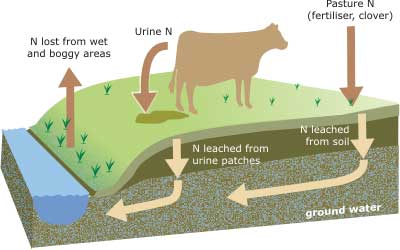 "New Zealand has more than 6.5 million dairy cows, so managing nitrogen leaching, and the flow-on effect on waterways, is one of New Zealand's major agricultural challenges," he said.
"Farmers need easy to implement environmental solutions to reduce nitrogen leaching on farms while maintaining productivity. Ecotain allows them to simply make a change to the composition of their pastures," says Mr Brown
As requirements are introduced for farmers to prepare farm environmental plans Mr Brown said Agricom's next step was getting Ecotain recognised by Overseer, a farm nutrient measuring tool.
He said Ecotain was the only scientifically proven plantain to reduce nitrogen leaching in four ways and the ease with which Ecotain could be established and incorporated into a farm forage plan made it an attractive option for farmers.
Ecotain works in four ways, known as dilute, reduce, delay and restrict. Consuming Ecotain increases the volume of cows' urine which dilutes the concentration of nitrogen, it reduces the total amount of dietary nitrogen in animals' urine, it delays the process of turning ammonium into nitrate in the urine patch, and it restricts the accumulation of nitrate in soils growing Ecotain.
Ecotain can be used in a pasture as a special purpose crop with clover, or in a grass/ clover/Ecotain mixed pasture system. It can also be oversown into existing pasture.
Including just 20 to 30 per cent Ecotain in a pasture can reduce nitrogen leaching by up to 74 per cent, while pastures containing 42 per cent Ecotain showed reductions of 89 per cent.