An 18-month long project to understand how changes on farm to reduce greenhouse gas emissions may impact a farms profitability and productivity has come to fruition, with the results for the Owl demonstration farm in Cambridge released today by DairyNZ.
"Our aim was to model and apply practical measures to see how we can adapt New Zealand's highly efficient pastoral farm systems to meet New Zealand's climate change goals," says DairyNZ chief executive Tim Mackle.
"The outcome of this project is important to helping us understand the impact of making improvements or changes to how a farm operates in order to reduce emissions and nitrogen leaching."
Twelve farms across New Zealand took part in the Partnership Farm Project, modelling 44 different farm systems.  The Owl Farm results are the first of a series that will be launched over the coming weeks. The farmers who took part in this project are now looking closely at the changes that have been recommended to them to decide whether they implement these on their farm.
"One clear message from the work is that every farm is different and there isn't a 'one-size-fits-all' package of changes that every farmer can use," says Dr Mackle. "But they can learn from these case studies to compare against their own farm and see what might be possible."
"The other clear message is to measure, or estimate, biological greenhouse gas emissions – to know your numbers – as that is the first step to knowing how to manage them."
On Owl farm, one of the modelled farm management changes involved reducing feed use and lowering the stocking rate.  This is expected to result in a 21 percent increase in profitability alongside a 14 percent reduction in nitrogen leaching and 13 percent reduction in greenhouse gas emissions.
Mitigations modelled on the partnership farms fell into three categories: farm management changes, infrastructure investment, and retiring or planting land. When selecting a package of mitigations suitable for each farm, options from all three may be chosen together.
"The results of this project, and the huge amount of data we are still compiling, reinforce the complexity of the challenge we face as a sector," says Dr Mackle. "Mitigation options vary depending on the farm system and the region. To see nationwide reductions in greenhouse gas emissions we need a specifically designed package of changes for each farm.
"This is why DairyNZ is supportive of customised Farm Environment Plans which recognise the differences between each farm and factor in a holistic systems approach to recognise efforts across greenhouse gases, water quality, biodiversity, and financial sustainability.
"It will be critical the Government supports adequate training and capability of rural professionals as part of a low emissions transition plan. Expert advice must be available to help farmers understand what improvements or changes they could make to the way they run their farms that will make the biggest difference to their total emissions. It will take years to build up to that level of capacity.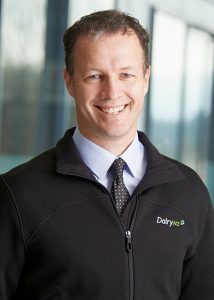 "We are also hopeful that as the use of OVERSEER spreads, more farmers will be increasingly aware of their current emission levels, which can provide useful benchmarks for improvements.
"What this work in the partnership project highlights is that large scale reductions will rely on the development of a new workable technological solution well in advance of 2050.
"We are aiming for a slow release inhibitor compatible with the New Zealand farming system to be developed by 2050, and this could achieve a 30 per cent reduction in methane. We must continue our investment in research and development to pursue that option or our ability to cut emissions will be limited.
"Leading efforts for our sector to reduce our greenhouse gases is part of our Dairy Tomorrow sector strategy. Above all, Dairy Tomorrow takes a holistic approach which means managing greenhouse gas emissions is part of a broader set of challenges including water quality, people, animal care, and critically, ensuring we have profitability and resilient farming systems that underpin our ability to resolve these challenges."
Details on OWL farm greenhouse gas reductions
OWL farm, a demonstration farm in Cambridge, was recommended two mitigation packages. One primarily focused on farm management changes that de-intensify the farm system, and the second on infrastructure investment.
Modelling showed the greatest gains were possible through de-intensification, which would involve reducing all supplementary feed and then reducing the stocking rate in line with feed reduction, while focusing on efficient resource use. This is expected to achieve a 14% reduction in N leaching, 13% reduction in greenhouse gases, and a 21% increase in profitability.
Opportunities are currently available on many farms to improve both profit and reduce emissions through good management practices. Already, over the past two years, OWL farm has reduced total Greenhouse gas emissions by 8% and lifted operating profit per hectare by 14% by improving management practices.
Two principles used to achieve this result at Owl farm are applicable across many farms. These were to reduce whole farm N surplus through managing N fertiliser and imported feed, and reducing the total feed eaten per hectare.