Some already call it the Riviera of the South and now Timaru could also be the pizza capital of New Zealand, as the region becomes the Southern Hemisphere's largest producer of natural mozzarella cheese.
Fonterra's Clandeboye site fired up its third new mozzarella line today, meaning it now produces enough of the revolutionary cheese to top more than half a billion pizzas a year.
The cheese, which is made from one of the Co-operative's secret recipes, is made in hours rather than in months – the time traditional mozzarella takes. It's destined for pizzas all over the world. Fonterra cheese already tops around 50% of the pizzas in China – one of the fastest growing pizza markets in the world.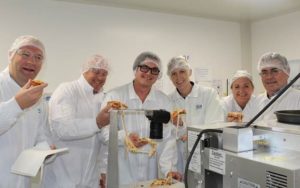 Caption: Say cheese! MP for Rangitata Andrew Falloon, Timaru Mayor Damon Odey, Process Operator Shannon Biggs, Process Operator Paula Eddy, Process Operator Pene Hammond and Cheese Plant Manager Chris Turner.
Fonterra Chief Operating Officer Global Operations Robert Spurway says the new plant, which was built in under two years, is a great example of the Co-operative's ambition to move more milk into value add products.
"We're focussed on getting more value from every drop of our farmers milk. With the opening of this new mozarella plant and recent expansion of our Darfield site, we're able to produce even more higher returning products. That's good news for our farmers and the communities they live in," says Mr Spurway.
Fonterra GM Marketing Global Foodservice, Susan Cassidy, says "the new plant will double the site's production of mozzarella – the world's most popular variety of cheese, topping more than 80% of pizzas in Australia, China, South East Asia and the Middle East. We're excited to have a slice of this market and are looking forward to that slice growing.
"Globally more and more people are eating meals out of home, in restaurants and on the go, and the global foodservice market is predicted to be worth $3 trillion USD by 2021. Our Foodservice business, Anchor Food Professionals, is still experiencing strong growth – and this new expansion supports our growth."
According to gloabl reseach company Euromonitor, demand for Western food in China has helped pizza sales more than double from US$1.5 billion in 2010 to US$3.5 billion in 2015.
Timaru District Mayor Damon Odey says "it's fantastic to see this plan come to reality, as it underlines the importance of the Timaru District as a major food hub in New Zealand, and as an growing exporter to the rest of the world. We welcome this vote of confidence that Fonterra has made in our community.
More and more people are seeing the appeal of provincial New Zealand, and investments like this underline that people can move to Timaru District and get unmatched job, housing and lifestyle options."