A compact and cost-efficient alternative to conventional dewatering technologies is being introduced to Australia and New Zealand to eliminate costs and OH&S hazards associated with damper and heavier output from poultry processing and major food preparation operations.
The KDS Multidisc Separator system from CST Wastewater Solutions –  requires no washwater, while capturing 90-99 per cent of solids – is engineered to overcome the limitations of technologies such as screw presses, belt presses and centrifuges currently used.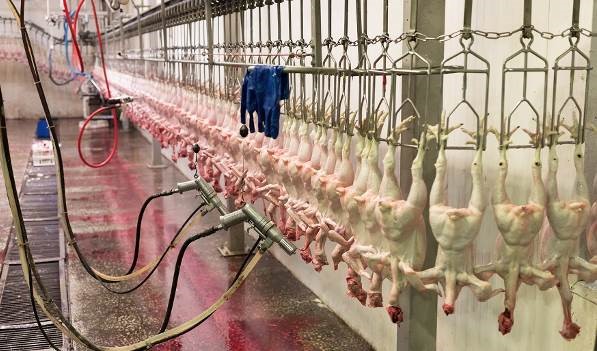 Applications include small-to-medium poultry, fish, meat and dairy plants as well as large-scale food and beverage kitchens and catering facilities which face the challenge not only of handling heavy, sticky wet waste, but also the volume and cost and OH&S hazards of transporting such unhygienic material to disposal facilities.
Benefits of particular importance to installations for the poultry industry include:
Removal of solids from waste streams
Dewatering of sludges and solids
Screening and dewatering of chicken processing wastes
Removal and dewatering of solids from waste waters
Dewatering of chemical sludges from DAF floats
The largest energy saving KDS unit can handle about 100kg DS (dry solids) an hour at 98 per cent solids capture, to produce this more hygienic and more compact output that is easier and cheaper to handle and transport.
Used for dewatering of dissolved air flotation sludge – a very common application throughout waste water operations – The KDS achieves solids capture of 97 per cent thickened sludge at a dryness of 17 per cent. Waste activated sludge dryness levels are typically 15-18 per cent dryness.
The high quality, Japanese-manufactured technology:
Uses minimal energy, consuming as little as 06kW hr of electricity
Operates at low (63dBa) non-intrusive noise and vibration levels
Requires minimal daily maintenance, saving cost and enhancing OH&S performance
Occupies typically half the space or less of conventional dewatering plants
Is available as fixed compact units or skid-mounted types that can be carried on truck or trailer
This lighter, dryer waste it produces reduces the need for manual labour in cleaning and transport operations and curtails the need for staff to handle sloppy heavy waste potentially hazardous to health.
How it w0rks
The clog-free automatic liquid-to-solid waste separator dewaters solids and conditioned sludge on a self-cleaning wedgewire belt. This static belt is cleaned by a unique set of rotating oval shape plates.
After the drainage and thickening zone, the thickened sludge passes a dewatering zone which consists of an adjustable plate, actuated manually or by pneumatic cylinder to further squeeze the solids.
The KDS' unique self-cleaning dewatering and conveying system features an oval plate separation and transfer structure that prevents clogging and permits automatic continuous operation that handles oily and fibrous material with ease.