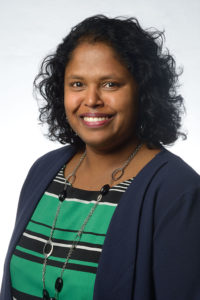 Southland dairy leadership coach Loshni Manikam is this year's Fonterra Dairy Woman of the Year.
The human behaviour and leadership expert took out the 2018 title from an impressive line-up which included Tararua district mayor Tracey Collis and Hawke's Bay dairy consultant Rachel Baker. The awards ceremony was held tonight in Rotorua as part of a gala dinner at the Dairy Women's Network's annual conference, which also marked the Network's 20th year.
Manikam, originally from South Africa, milks 600 cows with her husband and three children in Winton, Southland. In 2007 they were named Southland Sharemilker of the Year, before progressing to their current equity partnership.
A former lawyer, Manikam transitioned from dairy farming to leadership coaching after receiving her coach certification in 2012. She is the founding director of Iceberg Coaching and a strategic consultant for Farmstrong, working to support the wellbeing of farming communities.
She is a trustee of the Southern Dairy Development Trust, a coach and facilitator of the Agri-Women's Development Trust's Escalator Programme, and a Federated Farmers Southland executive member.
Dairy Women's Network CEO Zelda de Villiers says Manikam has a unique ability to engage with communities and stakeholders at a range of levels.
"What stood out to us was Loshni's dedication to growing leadership among farming communities, and her determination to change the headspace in which farmers operate – that they are more than what they do, they are not just their farms and their bottom lines," says de Villiers.
"Loshni strives to be part of change in the industry, and she combines her grassroots experience and enthusiasm with her ability to engage at the highest levels. She is well-deserving of the Fonterra Dairy Woman of the Year title."
Manikam says receiving the title is proof positive that the success of "an ordinary dairy farming woman" can translate far and wide. "It shows you can raise a family and still progress through the industry, reach the top, and have a say at industry level," she says.
She says it's an honour to be recognised for her work. "I am most passionate about people and their untapped potential. It really excites me how growing people's awareness of their own strengths has such a positive and far-reaching impact on everyone around them.
"I see a real need in our industry to better understand the importance and benefits – both financial and non-financial – of prioritising and developing people.
"I'm passionate about effecting change by working alongside industry leaders and farming communities. I think it's important to first build relationships and understand each group's drivers before collaborating for change, and I hope the Fonterra Dairy Woman of the Year title will allow a few more doors to open to allow that to keep happening."
As Fonterra Dairy Woman of the Year, Manikam receives a scholarship prize of up to $20,000 to undertake a professional/business development programme, sponsored by Fonterra.
The award was presented by Miles Hurrell, Chief Operating Officer at Fonterra. He says the award, and associated scholarship, is an investment in the future of New Zealand dairy farming.
"We are proud to support, celebrate and help develop the women in dairying who, like Fonterra, set high standards for themselves and for our industry," says Mr Hurrell.
"Loshni is another outstanding dairy woman to add to the ranks of previous recipients of the Fonterra Dairy Woman of the Year award. On behalf of Fonterra I wish her all the best and I have no doubt we will see more great things from her in the near future. I would also like to congratulate the other finalists Tracey and Rachel and acknowledge the contribution they have made, and continue to make, to our industry."