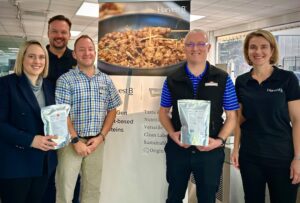 (L-R): Lisa Asher (Harvest B), Andrew Holloway (Dunninghams), Fabian Quevit (Dunninghams),  Scott Reynolds (Dunninghams) and Kristi Riordan (Harvest B)
High-quality whole piece, plant-based protein will soon be available to New Zealanders with the new distribution agreement between innovative Australian food manufacturer Harvest B and New Zealand supplier Dunninghams.
The agreement marks the first distribution arrangement for Harvest B and the first export market for its novel, high-quality plant-based proteins. Unlike other plant-based meat offerings, Harvest B has developed a range of products that deliver the look and taste of whole meat pieces, while removing the need for binders, additives and a cold supply chain.
"Partnering with such a highly respected organisation like Dunninghams to serve New Zealand made absolute sense for Harvest B," said Kristi Riordan, CEO of Harvest B. "Dunninghams brings a deep understanding of the New Zealand market and consumers, and like us they share a commitment to sustainability and environmental responsibility."
Growing demand for Plant-Based Meats
According to Euromonitor 1, 42% of global customers say that they are restricting certain animal-based products, with more people replacing entire meals with plant-based proteins or seeking higher-protein content from plant based sources.
Scott Reynolds, CEO of Dunninghams, said demand has been growing in the New Zealand market, "We are thrilled to partner with Harvest B to bring their innovative and sustainable products to New Zealand. Harvest B's plant-proteins are ideally suited to this market, where consumers have, until now, had limited choice when seeking healthier and more sustainable food options to reduce their animal protein consumption."
Better Experience for Restaurants & Food Manufacturers
"The Harvest B solution brings together multiple plant protein types, allowing us to provide better nutrition and a better eating experience. Through a simple on-site brine process, restaurants and food manufacturers can replicate traditional menu items their customers love with our plant-proteins," explained Riordan.
Harvest B's plant proteins are designed to be ambient and do not require a cold supply chain (refrigeration or freezing), making it easy to transport, store and use in a variety of applications. This provides several benefits, including lowering supply chain emissions, reducing wastage, increasing shelf life, and enhancing sustainability, which are essential in today's world.
"Over our 100 year history, Dunninghams has always sought to lead the market by offering high-quality, innovative ingredients and food products to New Zealand. We believe that Harvest B's products will deliver a healthy, affordable and great tasting meal option to our market, while also providing retailers with a plant-based option that is lean and green," said Dunnighams' Scott Reynolds.
Plant Proteins for Easy Everyday Cooking
Harvest B novel plant proteins take the alternative meat category to the next level delivering a complete amino acid profile comparable to animal proteins, with textures and taste akin to some of the most desired meat styles for everyday cooking.
Harvest B's NZ product range will initially be available in ready-to-take home 1kg packs of chickenless strips, chickenless pieces, chickenless shred, beefless pieces, lambless pieces and porkless pieces as well as bulk solutions for restaurateurs and food service companies.
Founded in Australia in 2020, Harvest B is an Australian plant-based meat ingredient innovator with a vision to accelerate the transition to a sustainable food system. Through its mission to create plant-based meat products that are tastier, more affordable, and cleaner, Harvest B has developed a range of plant-based meat ingredients using a proprietary combination of plant proteins and extrusion technology that will form the basis of the next-generation, plant-based meat products for mouths all over the world – harvestb.io.
Dunninghams is a New Zealand based privately owned fourth generation family company, we have been partnering with food providers to produce and supply top quality products since 1921 (102 years) and enjoy an excellent reputation for superb cost-effective products that deliver consistent quality and performance from decades of industry knowledge. Further information is available at www.dunninghams.co.nz/about-us.