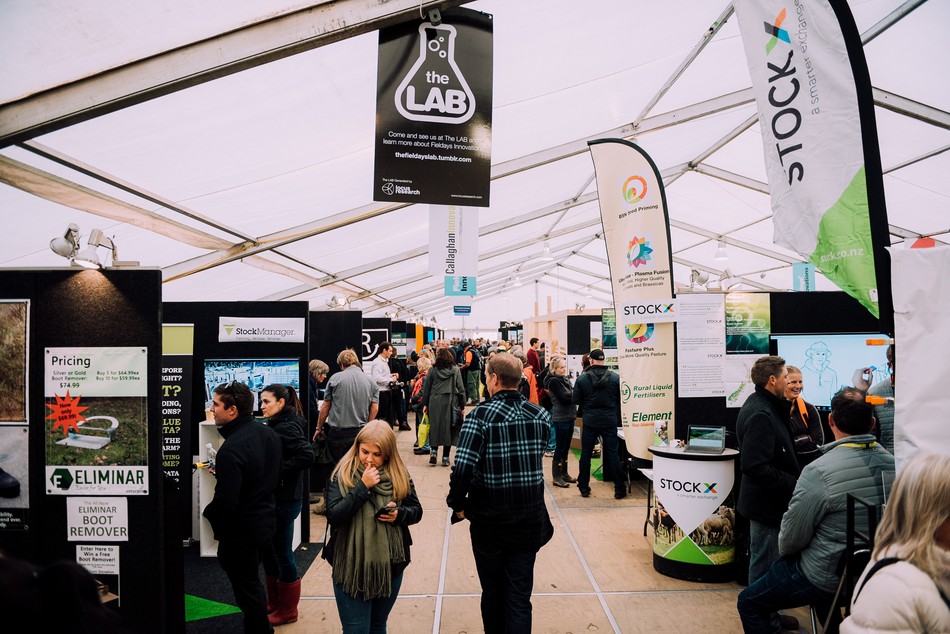 Entrants in the Fieldays Innovation Awards will be boosted by a team of knowledgeable, passionate and well-connected organisations with three new sponsors being added to the already impressive group.
Amazon Web Services (AWS), Gait International and James & Wells join Vodafone NZ, Callaghan Innovations and Massey University to form the strong team of sponsors fostering New Zealand agricultural innovations in the Fieldays Innovation Awards.

The awards provide an ideal platform for innovators to conduct market research, gather information, receive advice, make connections and launch their ideas nationally and internationally.
Fieldays Innovations event manager Gail Hendricks speaks of the benefits of having such fantastic sponsors on board,
"We are really lucky to have a group of amazing sponsors supporting the Fieldays Innovation Awards for 2019. The support, advice and connections that each of our partners have for entrants will do wonders in advancing their ideas, propelling them onto the national and world stage with such reputable knowledge behind them.
"AWS has supported many successful New Zealand start-ups and enterprises in their technology journeys, and with AgTech being such a common theme amongst innovation entries, we see them being a hugely beneficial part of the Fieldays Innovation Awards' team of sponsors, says Hendricks.
Founded by Kiwi entrepreneur Daniel Given, Gait International is a design for manufacture and value engineering company with specialist supply chain management solutions that helps global companies to deliver world class engineered products.
Daniel Given, Gait International CEO speaks of the new partnership with Fieldays, "We were very keen to get involved in Fieldays Innovation, as it has been key to enabling Kiwi Agri-business innovators. Building successful businesses is hard, we are excited to be able to share some of our experiences and provide mentor ship to the agri-businesses of the future."
James & Wells is the number one law firm choice for Kiwi innovators. Their mission is to help grow New Zealand businesses by assisting them to own, control and leverage their brands and innovations both locally and internationally.
Managing Partner Tim Walden speaks of the importance of company's leveraging their innovative intangible assets, "Global research shows that over 80% of a company's value can be attributed to its intangible assets. As long-term champions of innovation, our role is to help educate and guide New Zealand businesses on how to leverage their intellectual assets.  Teaming up with the Fieldays community provides a perfect platform for us to raise awareness of the growing importance of IP in this sector."
Entries are open for the 2019 Fieldays Innovation Awards and close on Friday 10 May. Check out the entry criteria and enter your creation in the Fieldays Innovation Awards online now at https://fieldays.co.nz/whats-on/innovations/
ABOUT FIELDAYS
Fieldays is based on a 114-hectare site at Mystery Creek 10 minutes from Hamilton and is the largest agricultural event in the Southern Hemisphere.
Fieldays draws people from around the globe – both as exhibitors and visitors. In 2018 Fieldays celebrated its 50th event and saw 130,866 people visit the event, generating $492M in sales revenue for New Zealand businesses.
Fieldays is run by New Zealand National Fieldays Society, a charitable organisation founded in 1968 for the purpose of advancing primary industry.
For more information head to www.fieldays.co.nz
ABOUT FIELDAYS INNOVATIONS
Fieldays Innovations provides a platform for inventors and innovative companies to launch and develop their ideas while educating Fieldays visitors on the latest developments in the industry.
Fieldays Innovations is made up of two parts:
Innovation Awards with categories including Prototype Established, Prototype Established, Launch NZ and International as well as several sponsor awards
Innovation Centre located at the heart of Fieldays where all award entries and sponsors have an exhibition booth displaying and educating on their innovative products
Fieldays Innovations is proudly supported by a group of fantastic sponsors including Vodafone, Massey University, Callaghan Innovation, Amazon Web Services, Gait International and James & Wells.