Social entrepreneur Michael Mayell is speaking out about the beneficial properties of hemp to help inform and inspire Kiwis to embrace new business opportunities around what he calls a 'formidable vegetable'.
"Hemp is food, fibre and medicine. Hemp is cannabis without any of the psychoactive properties ​​of its cousin marijuana and is fuelling an emerging market which is an exciting opportunity for entrepreneurs and investors," says Mayell, who started his food journey as founder of Cookie Time in 1983 and went on to found Nutrient Rescue, a social enterprise, in 2016 and the Drinkable Rivers in our Lifetime campaign.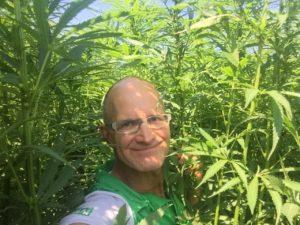 Mayell says, "I think we're growing the wrong grass in New Zealand, or as Richard Branson said we should swap cows for cannabis. New Zealand needs to move from the lamb age to the cow age to the hemp age.  I'd like to see the whole country get behind this incredible and so very misunderstood plant."
New Zealand food safety authorities are currently looking to follow Australia to allow hemp seed in food by changing regulations under the Food Act, the Misuse of Drugs Act and the Medicines Act.  Law changes are expected later this year to allow hemp seed to be sold as a food in New Zealand, in addition to the current legislation which has allowed the local sale of hemp seed oil since 2003.
"Many other countries have already legalised this formidable vegetable," says Mayell. "We need to be ready to capitalise on the opportunities around hemp seed, one of the most nutritionally complete foods on Earth. With up to 40% protein and 40% good oil, hemp offers an incredible alternative to meat or dairy protein for the exponentially growing plant-based, flexitarian and vegan markets."
Hulled hemp seeds are filled with healthy essential fatty acids such as Alpha-linolenic acid (ALA, Omega 3 and Omega 6) and Gamma-linolenic acid (GLA) and are high in fibre, iron, phosphorus, potassium, calcium, zinc, vitamin E and magnesium.
According to Mayell, Hemp is also the new king of leafy greens, "There are 100 cannabinoids and other nutrients in hemp leaves. It's an incredible superfood and people could be eating and juicing the leaf for its micronutrients and antioxidant properties, as they do with spinach and kale."
Hemp has seen a resurgence of interest in recent years due to its multi-purpose applications and the pharmaceutical and construction sectors have shown interest in the plant in equal measure in addition to the food sector.
Hemp is rich in phytochemicals including terpenes and phenolic compounds, with analgesic, anti-anxiety, and anti-inflammatory properties, as well as cannabinoids. Hemp is a rich source of both cellulosic and woody fibres with uses ranging from the creation of concrete like building materials to the use of hemp fibres as a substitute for glass fibres in the automotive sector.  With between 25,000 and 50,000 uses often reported, it is has also been named the world's most versatile plant.
Mayell says the opportunity to invest in hemp is compelling as it has some major environmental benefits. "Hemp is exponentially better for the environment than grass grazing cows which pollute the land, air and waterways.  Hemp is also an incredible phyto remediation plant and can extract heavy metals and other contaminates from fertilizers in the soil which in turn stops them getting into foods and waterways."
Research shows hemp can uptake as much as 4 times the C​O​2 of trees. Based on this Mayell believes that if 10,000 dairy farmers grew hemp on one quarter of their land, the net environmental impact (-cows+hemp) would be a game changer.  "Planting hemp isn't just a win for the environment, it produces an annual profit which will increase over time as markets are found for more and more of the plants constituents."
Mayell adds, "During the lamb age we became rich thanks to 70 million sheep and their wool, and from frozen lamb carcass exports.  Now in the cow age, we have 6.5 million dairy cows and 3.5 million cattle each excreting the equivalent of 14 human beings making our land toxic and makes many of our rivers unswimmable and producing highly destructive methane that pollutes the air.
"Fortunately it's a problem with a solution – and the solution is to move from the current unsustainable animal farming paradigm to a new regenerative business model to support the bio-economy and there is no better plant on the planet to do this job than hemp."