Sæplast has extended its range of rugged and hygienic reusable plastic containers for the food processing industry with the introduction of a further size.
The new Sæplast 300PE is a square 800x800mm container with a height of 770mm giving it a net volume of 268 litres. This can be increased to 298 litres with the removal of the handle openings. For ease of access and transportation, the container features fork lift entry on all four sides.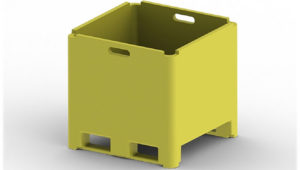 Like all Sæplast containers, the 300PE offers important hygiene, safety and convenience benefits to ensure the highest food processing standards. The one piece, seamless triple-wall design and closed cell core provides excellent durability, meaning Sæplast PE containers last on average between five to seven times longer than single wall bins.
The solid inner core prevents absorption of liquid and the tubs do not have easily broken joints or hard-to-clean crevasses, preventing the harbouring of harmful bacterial growth and making them easy to clean, maintain and repair. The avoidance of splintering, metal tearing or corrugated boxes collapsing delivers safe and easy handling for users.
The Sæplast 300PE is available in a variety of colours. Company logos can be incorporated for individual branding, and tracking options include barcode, QR code and RFID technology.