Rotorua will be abuzz with beekeepers and honey producers this June, as the apiculture industry gathers for the annual Apiculture New Zealand Conference and Trade Exhibition.
Held from 24-26 June at the Rotorua Energy Events Centre, the theme of Conference 2021 is 'Healthy Bees, Healthy Industry, Healthy Future'.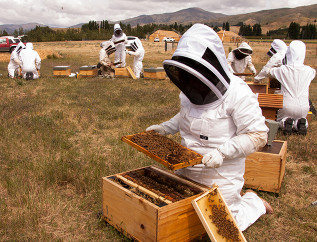 Apiculture New Zealand chief executive Karin Kos says Conference is a great chance for the apiculture industry to tackle some of the big issues facing the sector.   "We have a packed schedule with presentations, panel discussions and practical seminars covering some of the important challenges facing our industry.   These include the effect of climate change on pollinators, new research around managing pests like varroa, and the state of the global honey market."
The annual Apiculture New Zealand Conference is highly anticipated by beekeepers, bee scientists, apicultural suppliers and wider industry says Karin. "As always, there will be plenty to learn and share, and lots of opportunities to catch up with beekeepers from across the country. We are particularly aware this year of the importance of the social side of Conference, after COVID-19 meant last year's event had to cancelled. People are really keen to get together."
As uncertainties around COVID-19 remain, the organising committee are also preparing 'Plan Bee', a fully online digital conference, should this be necessary.
"We are committed to having Conference this year one way or another," says Karin. "Our preference, of course, would be the fully on-site face-to-face event, but we know that online events can work really well and allow for lots of interaction between attendees and presenters if this is what needs to happen."
A highlight of Conference is always the National Honey Competition, where honey producers from across the country vie for medals across a range of categories.   
Karin says beekeepers are already preparing honey, and other bee-related produce, for this event.  "The competition is a chance to show off the hard work of your bees and to taste what other people have been doing," she says. "It is extremely popular with delegates and very highly contested."
Successes in innovation, sustainability, research and photography in the apiculture industry will also be celebrated at Conference.