Innovative crop protection products from Bayer CropScience have helped a New Zealand farmer break the world record yield for barley.
Warren and Joy Darling, from Timaru, produced 13.8 tonnes per hectare, easily breaking the previous record of 12.2 tonnes, held by Scottish grower Stockton Park since 1989. The new record was officially ratified by Guinness World Records on April 15 after the crop was harvested on 23 January 2015.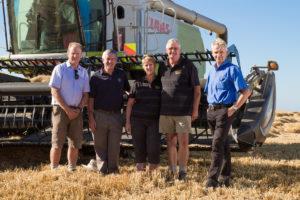 Bayer New Zealand managing director and head of Bayer CropScience in New Zealand, Dr Holger Detje, says the company is delighted with the role it played in achieving the record.
"Bayer provided the entire seed treatment, weed and disease control program, including our newly launched fungicide Aviator Xpro.
"Other key products included seed treatments Poncho and Raxil and herbicides Firebird and Hussar™.
"We are particularly pleased that these crop protection solutions safeguarded this magnificent barley crop, which has resulted in a world record yield," says Detje.
While Bayer's products and the in-field expertise from Timaru-based Bayer Territory Manager David Weith played a major role, Detje highlighted the importance of collaboration in achieving the record.
"Many factors determine the success of a great crop like this – soil, climate, technologically advanced farming machinery as well as farm inputs like the seed variety, nutrients and crop protection solutions. When the suppliers of these specialised inputs collaborate with skilled farmers like Warren, you see very healthy crops with excellent yields. The realisation of the barley world record shows that New Zealand farmers are among the best in the world."
"World-leading farmers like the Darlings ensure that we will be successful in our ultimate quest to ensure healthy and sufficient food for all people world-wide," adds Detje.
Bayer CropScience has a significant presence in New Zealand agriculture across all parts of the industry.
"We are focused on using innovative solutions to drive sustainable growth not only in New Zealand farming, but throughout the world.
I'm confident that with Bayer's portfolio of crop protective solutions, we will see even higher yields in future."