New Zealand company Biocosmo Technologies has developed a sustainable solution for organic food waste which they believe will help to eliminate the need for landfills.
Its food waste recycling system utilises new, patented technology to provide an end-to-end solution, processing waste in a matter of days and avoiding the problems caused by the toxic gases and sludge that are created when food matter decomposes.
The machine can process a variety of food wastes including household, hospitality, abattoir, paunch grass, poultry and fish processing, animal hair and waste water solids. The waste can take as little as three days to process and produces an innovative biological fertiliser solution for horticulture, agriculture and the home gardener.
The technology means that there is no need to dispose of these organic wastes in a landfill, with huge environmental benefits and economic benefits. Landfill fees and associated transport costs can be reduced, councils can better meet environmental compliance targets and keep the costs of the disposal of organic matter down – ultimately helping to reduce rates.
Biocosmo Director Nick Morison, says it has taken six years to develop the concept. "There are many factors we have considered to get the process exactly right. The system is now being used very successfully by a rubbish recycling company in Auckland, to dispose of household and hospitality food waste."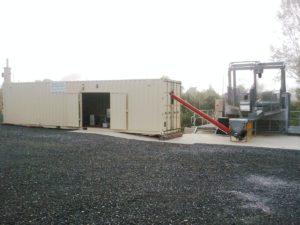 Waikato Regional Council was an early adopter of the technology, using it to process the carp that is trapped in rivers and lakes in the region. The fish take three days to process and the fertiliser output is used for the council's riparian planting programme.
The company has fielded enquiries about the waste system from Australia, China, South Africa and India. "It's exciting for us to get the technology to a stage where we can sell machines around the world. We can custom-make the machines depending on the nature and quantity of a company's waste stream. We can produce portable systems that are the size of a shipping container or much larger industrial scale plants suited to specific needs," says Morison.
The system's operational costs are exceptionally low compared to other in-vessel processing systems as there is no need for an external heat supply. The smaller machines consume power at a rate of $2.00 per hour (@25 cents/Kw/hr).
The system provides an ideal solution for single source producers such as fish farms, abattoirs, chicken farms, etc. to dispose of their organic matter. For example, the waste from a chicken farm includes feathers, eggs, chicken mortalities and waste which can all be processed by the machine. Single source inputs process more quickly than multiple sources of food.
"We believe that this technology is part of the answer to the problem of burgeoning landfills as it's the only 100 percent no-waste solution that we are aware of on the market. The biological fertiliser also potentially has a significant contribution to make to soil health and plant growth."
How it works
The Biocosmo process uses naturally occurring and non-pathogenic bacteria to carry out a natural decomposition process in uniquely accelerated conditions.
Trillions of bacteria operate to completely render the food waste down in a matter of days. By comparison the process would take months or years if waste was buried in the ground.
The bacteria naturally breaks down food wastes, using extracellular enzymes. Many different enzymes are produced by the bacteria, enabling the effective decomposition of a wide range of food groups.
The bacteria operate at high temperature and produce large quantities of heat. Their exothermic metabolism destroys any pathogens that many be present, effectively pasteurising the throughput.
The system uses multiple, sealed reactors, ensuring complete retention of all nutrients that are present in the original waste materials.
The smaller shipping container-sized processing plants are easily transported and are able to be readily relocated. These systems can process up to five tonne of waste per day.
The end product is a dry, stable biological fertiliser that is ready for use. The fertiliser is a matrix of organic matter that utilises nothing but good bacteria and is free from harmful chemicals that could be passed into the food chain. Biocosmo fertiliser is high in organic material and provides nutrients and capacity to retain important moisture in the soil.
Fertiliser made from foods high in protein contains nitrogen and other beneficial elements in a form that makes them readily available to plants. It supports soil friendly micro-organisms which are essential for natural growth and improves resistance to pests and disease. Biocosmo biological fertiliser also acts as a soil conditioner by actively breaking the down the soil's chemical dependency so the soil can heal itself.