Hamish Gates from Pukekohe has been named Young Grower of the Year 2015.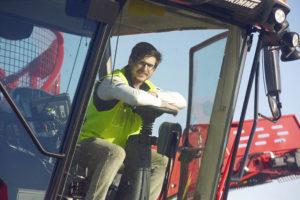 Hamish secured his place at the national competition after being named New Zealand Young Vegetable Grower 2015 in April. The carrot washline supervisor works for AS Wilcox & Sons in Pukekohe.
The final phase of the competition saw five regional champions battle it out in a series of practical and theoretical challenges that tested their essential industry knowledge and skills.
Julian Raine, President of Horticulture New Zealand, said the competition demonstrated the high calibre of ability in the country.
"We have come to expect an outstanding level of talent in the competition and this year's finalists were no exception. The knowledge and skills Hamish showed throughout the competition clearly demonstrated his ability to succeed in this industry. He gave each challenge his all, and it was this commitment that helped him come out on top."
The challenges ranged from an environment and sustainability exercise, to pest and disease identification, and quad bike health and safety.
Competitors also had to participate in a leadership panel, and present a three-minute speech on the role of innovation and technology in the industry.
Hamish, 24, said winning the national Young Grower of the Year 2015 title was an honour given the standard of the competition.
"I feel really privileged to have won the competition. The other growers are at the top of their game and it was a tough challenge, so I am proud to be able to take this award back to Pukekohe," says Hamish.
"I learned a lot from the competition and have gained a huge amount of confidence in my ability as a grower. Hopefully my success will encourage other young people from across New Zealand to get into this great industry."
As Young Grower of the Year 2015, Hamish receives $2000 cash and entry to compete at the 2015 Young Horticulturalist of the Year competition in November.He wanted to recognise and thank the supporters behind the competition."A lot of generous support makes Young Grower of the Year possible. The competition really fosters young talent in horticulture and shows the value it adds to our industry," said Hamish.
Bay of Plenty's Craig Ward, from Apata Group Ltd in Katikati, was named Young Fruit Grower of the Year and runner up for the overall competition. Young Fruit Grower of the Year runner up was awarded to Andrew Kearney, orchard operations and development assistant manager for T&G Pipfruit in Hawke's Bay. All finalists received $1000 towards personal development.
The competitors were:
• Young Vegetable Grower 2015 – Hamish Gates, Carrot Washline Supervisor at AS Wilcox & Sons (Pukekohe)
• Bay of Plenty Young Fruit Grower 2015 – Craig Ward, Technical Advisor at Apata Group Limited (Katikati)
• Hawke's Bay Young Fruit Grower 2015 – Andrew Kearney, Orchard Operations and Development Assistant Manager at T&G Pipfruit (Hastings)
• Nelson Young Fruit Grower 2015 – Canaan Balck, Block Manager at Hoddy's Orchard (Waimea Plains)
• Otago Young Fruit Grower 2015 – James Huffadine, Site Manager at Parkburn Management (Cromwell)
Supported by platinum sponsor NZ Horticentre Trust, the Horticulture NZ competition is now in its seventh year.
"We're proud to support young leaders of the horticulture industry in competitions like Young Grower of the Year. It's a great way for them to showcase their talent and aspirations as the future of horticulture in New Zealand," said Tony Ivicevich, Trustee of the NZ Horticentre Trust.