Schneider Electric, the global specialist in energy management and automation, has announced the success achieved with WaterForce, a leading provider of water management and irrigation solutions in New Zealand.
Schneider Electric worked with WaterForce to develop a cloud-based Industrial Internet of Things (IIoT) mobile control solution, built on Microsoft Azure and Azure IoT technologies, which enables farmers to operate irrigation pivots with greater agility, efficiency and sustainability.
Agriculture accounts for nearly 70 percent of the world's water consumption. As global food demand grows, water use is expected to rise – making efficient irrigation critical. With Schneider Electric's EcoStruxureTM architecture, WaterForce developed a cloud-based IIoT solution so farmers can monitor and control irrigation pumps and pivots from their computer, tablet or smartphone.
EcoStruxure is Schneider Electric's IoT-enabled, open and interoperable system architecture and platform. It delivers Innovation At Every Level across connected products, edge control, and apps, analytics, and services, and enables scalable design and operation of connected systems for increased operational efficiency.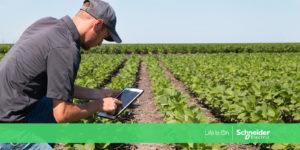 "Every day I adjust my pivots and pumps for a variety of reasons – shifts in the wind, rain levels, crop requirements or local regulations," said Craig Blackburn, Director Farm Manager of Blackhills Farm, "Now I can monitor and control my irrigation system easily from my mobile phone, saving me hours of time not spent driving around the farm. With information at my fingertips, my farm is more productive, water and energy costs are lower and crop yields higher."
Unique to this solution is its ability to work with a farm's existing equipment, such as irrigation and pump controllers. This means no significant capital investment is required before seeing benefits.
"Most farms are not built to handle large software installations," said Ron McFetridge, Director of WaterForce. "Using a lightweight, cloud solution with mobile capabilities has been key to expanding IoT capabilities to these farms.
"By leveraging our relationship with Schneider Electric, we can focus on our core business – effective water management – knowing that the information management, analytics and automation side is covered."
WaterForce's solution integrates multiple components of Schneider Electric's software and hardware product portfolio, including cloud and mobility solutions, HMI/SCADA, variable speed drives and soft starters. The solution is built using Microsoft Azure IoT Hub, which includes a collection of integrated enterprise tools including devices, software, cloud, data and analytics.
"By 2050 we will need 55% more water to nourish the growing demand for food, so efficient irrigation is critical," said Rob McGreevy, Vice President of Information, Operations and Asset Management at Schneider Electric.
"We believe driving operational improvements and efficiencies at these farms is a key component to sustainably feeding the planet. EcoStruxure simplifies the integration between the connected products, edge control, and apps and analytics, to provide an innovative solution that responds to the specific needs of these farmers."
"Schneider Electric leverages Microsoft Azure and Azure IoT technologies to equip farmers with the ability to unlock new insights and make the best possible decisions in real-time around water usage and energy efficiencies," said Sam George, Director of Microsoft Azure IoT at Microsoft Corp. "We are proud to partner with Schneider Electric on a global solution that's digitally transforming agriculture and paving the way for a sustainable future.''
This cloud-based IIoT irrigation control solution is provided through WaterForce, and is currently available in New Zealand.
A success story has been prepared, offering further detail and examples of what WaterForce and Schneider Electric have accomplished at http://software.schneider-electric.com/aboutus/success-stories/ecostruxure-helps-waterforce-improve-efficiency-and-sustainability/