This year's top Holstein Friesian cow has been found in Te Awamutu. Okawa Tony Serenity EX2 took out the 2017 Valden Cow of the Year at the Holstein Friesian New Zealand (HFNZ) Awards evening, held in Cromwell recently.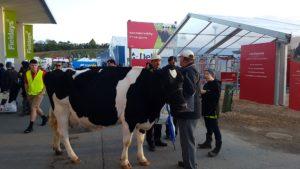 Serenity, owned by Tim and Jo Barclay of Okawa Ltd, and sired by Tahora Talent Tony-ET, beat out five other finalists to claim the title.
"We're very proud to win Valden Cow of the Year with Serenity," says Tim.
"It is common knowledge at home that she's an exceptional cow, and for her achievements to be recognised on a national platform as the top performing Holstein Friesian cow in New Zealand is really something," he says.
The Valden Cow of the Year title is awarded to any cow that has completed at least four lactations and is deemed to have contributed, or have the potential to contribute, to the breed on a continual basis.
 "We're happy to have a cow such as Okawa Tony Serenity represent the Holstein Friesian breed," says HFNZ General Manager Cherilyn Watson.
"She crosses the pedigree and commercial line nicely, with great conformation, while earning her keep on-farm and being successful in the show ring."
Serenity's classification score of EX2 shows she is very close to ideal conformation, and her lactation records speak for themselves. She's also had embryo transfer (ET) work done.
Coming from the well-known Tahora T family, Serenity is in her sixth lactation, with her best production to date completed as a four-year-old. In this she produced 10,650 litres, 361kg (3.45) protein and 363kg (3.4%) fat over 304 days. Her current PW sits at 244 and LW 244.
Since her four-year-old lactation, Serenity has been consistently achieved over 700kg of milk solids, with her best year as an eight-year-old – 9,819 litres, 327kg (3.33%) protein and 421kg (4.28%) fat over 305 days.
Serenity is a successful show cow also, having most recently won the Holstein Friesian Six Years and Over In-milk, Best Uddered, Senior Champion, and All Breeds Supreme Champion at the 2017 Royal Easter Show in Auckland. Further to this, she has found success in the Semex On-Farm competition, winning the four-year-old Townson Lindy class in 2012, the Conant-Acres Broker Mature class in 2015, and third place in the 2017 Comestar Laurie Sheik Veteran cow class.
In June this year Serenity attended NZ National Agricultural Fieldays, where she was a hit with the crowds – young and old, urban and rural.
Calculation of Valden Cow of the Year includes Production Worth (PW), Protein Breeding Value (BV), number of lactations, show results, Star Brood status, recognition for Superior Production, daughter performance in production indexes and daughter-proven sons in AB.
The cow must be alive as at 1 May in the year the competition is awarded and must have been born and bred in New Zealand with all production completed in New Zealand. A cow cannot win the Cow of the Year award more than once.