Syngenta New Zealand signals its entry into the New Zealand wheat seed market with the commercialisation of two very high yielding wheat cultivars – Graham wheat and Reflection wheat, which represent a significant lift in yield potential.
Developed by Syngenta NZ in conjunction with New Zealand head licensee Cropmark Seeds, the two new wheat cultivars are being commercialised this autumn and are the result of an intensive joint breeding and selection programme by the two companies.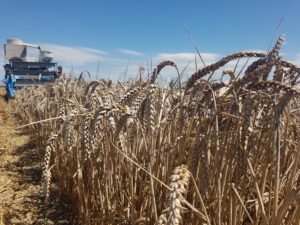 The breeding programme is already well known for the quality of its barley cultivars which have been at the forefront of the New Zealand barley seed industry for the last 20 years.
Graham wheat is the first of the Syngenta-bred wheats to be marketed in New Zealand and will be available in full commercial quantities from this autumn.
Graham wheat has impressive yield and agronomic qualities and has already created significant interest from within the arable farming sector. Graham is very high yielding as evidenced by its very high yields in the cereal seed industry's CPT trials in 2016/7.
 CPT Wheat Cultivar Evaluation Trials – average yield results (tonnes per hectare)
North Island
Canterbury
Southland
Graham
10.1
13.9
13
Wakanui
8.9
13.3
11.2
Starfire
6.8
12.9
11.8
Inferno
5.1
13.2
11.3
Ignite
8.5
13.7
11.9
Source: Foundation For Arable Research booklet 2016/17
Graham has a wide sowing window from April through to June and is a robust variety that yields well across a range of environments and responds well to inputs. On top of this Graham has excellent disease profile, good resistance to Septoria, leaf and stripe rusts.
Graham wheat seed will be available through licensed agents Advance Agriculture in Gore, Cates Grain and Seed in Ashburton and PGG Wrightson from autumn 2018.
Being released alongside Graham is Reflection wheat, being another high yielding wheat cultivar to keep an eye on. Reflection too has shown excellent yield performance and agronomic characteristics and with its excellent Septoria resistance and slow development is suited to very early sowings. Reflection wheat is a short stiff strawed cultivar with very high untreated yields and therefore is a low risk, high yielding option for early sowing.
Reflection wheat will be available in limited quantities in 2018 through Advance Agriculture in Gore and Cates Grain and Seed in Ashburton.