The New Zealand National Fieldays Society has made a considerable donation to the Rural Youth and Adult Literacy Trust which provides free tuition to isolated rural adults and teenagers who struggle with reading and writing.
The donation of $20,000 was made in recognition of the donated hours that the Society's members and volunteers give during Fieldays and Equidays and was presented at the Society's annual dinner and awards evening. Trustees Jo Poland and Barry O'Donnell represented the Trust on the night receiving the cheque from Society CEO Peter Nation.
"We are really proud to be supporting such an important cause by presenting this donation to the Rural Literacy Trust," says Nation. "They provide great opportunities to our rural communities and we're honoured to be able to help make this easier for them to do so. Without the hard work of our overall team, the Society would not be able to help our community as we do every year."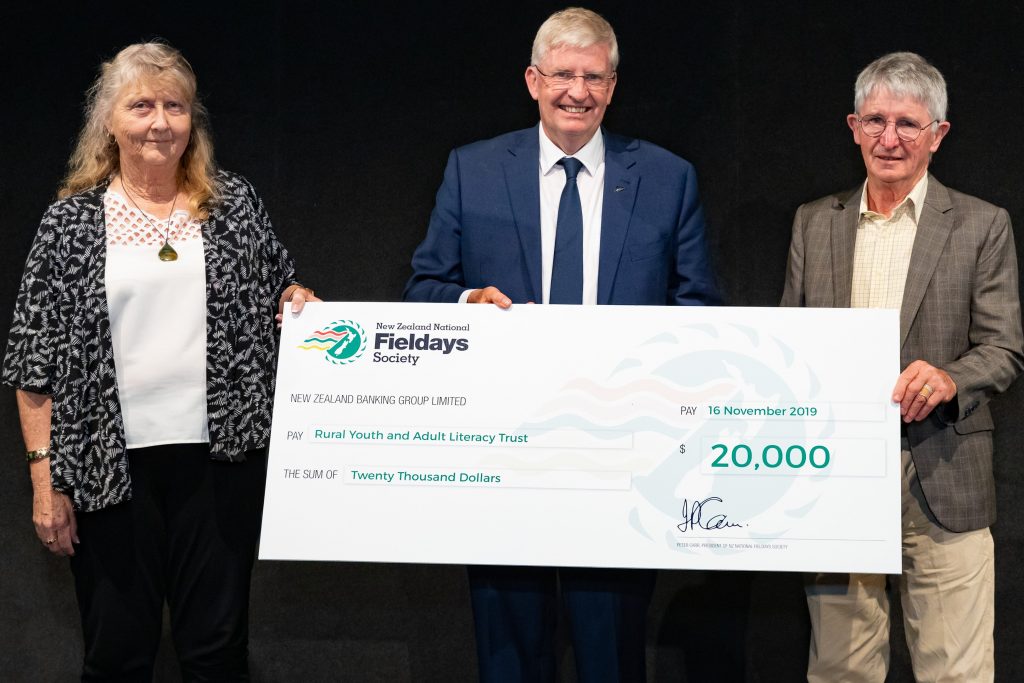 The Rural Youth and Adult Literacy Trust were chosen as recipients of this donation by the Society's staff, members and volunteers who voted on one of three charities who had applied for funding from the Society.
Supporting charitable activities has been the New Zealand National Fieldays Society's vision and each year the Society gives back to a variety of great causes through educational grants, research scholarships, charitable donations and various sponsorships.
In 2019 a charitable activities committee was created within the Society to boost the focus and involve the staff and volunteers in the decisions of where to allocate an approved annual budget to support charities that are making a difference in the rural sector.
About the New Zealand National Fieldays Society
The New Zealand National Fieldays Society was created in 1968 to bring town and country together and to advance agriculture for the benefit of New Zealand through collaborative leadership in innovation, education, technology and internationalisation.
The Society owns Fieldays and Equidays, operates the Mystery Creek Events Centre, supports education through grants and scholarships and gives back to the community through its charitable activities.