Hawke's Bay exporters, growers and farmers who have worked hard to protect the region's GM free status are happy the environment minister has backed down from controversial amendments to the RMA that would take away the regions' right to make their own decisions on GMOs.
Hawke's Bay's ability to establish a GM Free food producing zone under local plans has been shielded following last minute changes to the Resource Legislation Amendment Bill.
An amendment negotiated by the Maori Party exempts GM crops from the scope of new ministerial powers overriding local decision-making.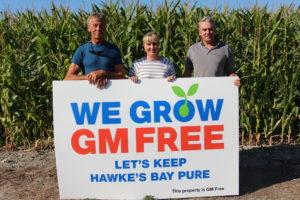 A further clause – introduced by the Government after public consultation on the Bill –  that would give the minister a second route to impose GM releases on the regions has been deleted.
Pure Hawke's Bay, lobby group representing Hawke's Bay growers, exporters and farmers was fighting to have s360D deleted altogether.
Pure Hawke's Bay President, Bruno Chambers says the best outcome for the regions would have been the deletion of 360D. "While the exemption is not as wide as what Pure Hawke's Bay has called for, it protects Hawke's Bay's right to decide on the GMOs most likely to come forward in the foreseebale future. "
The exemption agreed to by the Maori Party and the Government covers the growing of GM crops.
Pure Hawke's Bay understands that that exemption covers GM crops and any outdoor growing of GM crops, whether experimental or commercial. This was confirmed by Marama Fox, who sponsored the amendment, when she told Parliament:
"The Maori Party supports these amendments on the understanding that, as negotiated with the Government, they preserve the regions' ability under local plans to regulate all types of GM crops in their territories including forestry and grasses and any activities involving the growing of GM crops whether for commercial or other purposes."
It will mean that the Government cannot override the rules prohibiting outdoor activities involving GM crops on Hawke's Bay and other regions using those powers.
One of New Zealand's largest growers, John Bostock says this is a victory for the GM Free campaign.
"We are working hard to protect Hawke's Bay's GM Free status because it is such a huge economic opportunity for our high value agricultural economy."
We are grateful to the Maori Party for securing this protection, against a minister who is determined to override our local decision making, despite the clear market advantages that GM free status offers.
Pure Hawke's Bay also appreciates the support of all other political parties – Labour, United Future, New Zealand First, the Greens and Act – who have been vocal in their defense of local democracy and GM Free zones in particular.
This has been a long and unnecessary battle with Wellington, says Mr Chambers. But Parliament has made clear to the current minister – and put future ones on notice – how undemocractic these powers are and that the regions should be able to make their own calls on issues that have significant impacts on local economies and environments – such as GM agriculture.
Although the exemption does not extend to GM livestock, the new ministerial powers do not per se curtail the region's ability to prohibit livestock farming of GM animals.
The minister of the day would still have to introduce rules that prevent councils from regulating GM livestock farming under their local plans.
"That is a political fight any government would be foolhardy to pick, given the huge backing from the Hawke's Bay food export economy and the wider community", says Mr Chambers.
"Hastings District Council can be confident that the plan rules that protect the district's GM Free food producer status are safe from interference by the environment minister and s360D," says Mr Chambers.