And creates a market-leading food manufacturing group across Australia and New Zealand.
Patties Foods Limited ("Patties"), an iconic Australian food manufacturer, has announced the acquisition of Leader Products ("Leader"), a manufacturer of quick, easy, delicious frozen convenience food products based in New Zealand.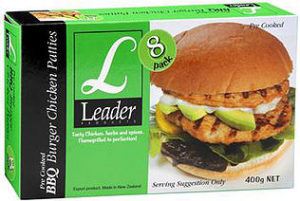 Leader was established by Tony Peterson and Richard Crabb in 1998 and over the last 18 years the business has emerged as the market leader in New Zealand in addition to exporting to Australia and Asia.
The company is growing strongly and has doubled revenue in the past five years.
Mr. Peterson will continue to drive the company's growth strategy in his role as Managing Director and will maintain a stake in the combined business.
Leader's product range includes meatballs, burger patties, toppas, finger foods and meal solutions under the brands Leader, Tony's Tucka and Kauri Coast. Leader supplies grocery retailers, distributors, sporting stadiums, convenience stores, cafes, hotels, restaurants and caterers in New Zealand, Australia and Asia.
The company is the market leader in innovation and new product development in the frozen food product sector.
Paul Hitchcock, CEO of Patties, said that Patties and Leader were natural partners – both focused on manufacturing high quality frozen foods known and loved by customers. Iconic brands in the Patties portfolio include Four'n Twenty, Patties, Herbert Adams, Nanna's and Chef's Pride.
Mr. Hitchcock said: "We are delighted to be joining forces with the Leader team. We believe the combination of Patties and Leader will provide significant growth opportunities for both companies given our complementary savoury meals and snack products, manufacturing operations and sales footprints. This deal will create a market-leading food business across Australia and New Zealand.
"Leader is a great New Zealand success story and we are very keen to support the team in their continued growth. For example, we see immediate opportunities to leverage the Patties sales force in Australia to bring more of Leader's great product range to Australian customers."
Mr. Peterson, Managing Director of Leader, said: "Patties will be a great long term partner for Leader, with capital to invest in our local manufacturing capacity and our continued growth and expansion into Australasia.
"Like Leader, Patties is a family-founded local business with a culture of innovation and operational excellence. I am excited about the opportunities for us to continue to grow and invest in Leader's products, people and key customer relationships together."
The transaction is expected to complete in early 2017 following receipt of regulatory approval. Patties was acquired by Pacific Equity Partners alongside existing shareholders, including the Rijs family, via Scheme of Arrangement in September 2016.