In the picture:L-R: Brendon Cane (Precision Farming) and Wayne McNee (LIC) signing the agreement at the National Fieldays yesterday.
Farmer-owned co-operative LIC has entered into a partnership with Precision Farming Ltd, supplier of GIS-based systems that manage the application of farm nutrients to optimise pasture growth including fertiliser and effluent.
The two companies have signed an agreement whereby Precision will share its nutrient management functionality for integration with the co-op's MINDA farm management system used by more than 90 per cent of NZ dairy farmers.
LIC chief executive Wayne McNee said it would provide enhanced information for farmers about their pasture and feed availability.
"LIC is committed to helping our farmers improve their prosperity and productivity, and with a predominantly grass-based industry we recognise that pasture management and feed optimisation is an important part of that equation.
"Seamless integration of farm information like fertiliser, effluent, water, and irrigation will complement our existing pasture management tools in MINDA, providing farmers with enhanced information to improve decision making and enable superior livestock performance, and deliver the benefits of precision agriculture."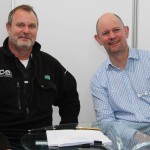 Precision Farming's system records spreading and nutrient activity on more than 4,500 farms, based on data generated by 720 of the country's estimated 800 commercial fertiliser spreading trucks.
Precision Farming also provide fertiliser monitoring GPS equipment direct to farmers, for use on self-spreading equipment and for GPS guidance and control of tractors, sprayers and harvesters.
Brendon Cane, MD of Precision Farming, said they are proud to partner with LIC and make it easier, faster and more profitable for more farmers to use integrated farm management information to support better decisions. As a contractor himself, he appreciates the benefits of reducing the time and cost, and often the guesswork, associated with improving pasture performance as part of overall farm profitability.
"With the current economic environment, the need to find any inefficiencies and leakages in operating expenses is more important than ever.
"Fertiliser, irrigation and labour are three of the biggest costs centres, and every dollar saved in these areas while at the same time growing more grass, is money on the bottom line, reducing not only these costs, but also the flow-on costs in terms of supplementary feed." Cane said.
The LIC and Precision partnership follows the co-op's investment in November last year into Figured, farm financial management software provider and Xero farming partner, for the integration of financial information into the MINDA and fulfil the financial component of the full farm performance system currently under development.
•