A Nelson-based contract manufacturer for products made from high-quality natural ingredients has for the third year running won the Supplier of the Year Award for New Zealand's natural health products industry.
Industry body Natural Health Products NZ recently announced Alaron Products as the 2021 winner. The award, which was decided by popular vote among Natural Health Products NZ's members, recognises a supplier that has made a significant contribution to businesses within the sector.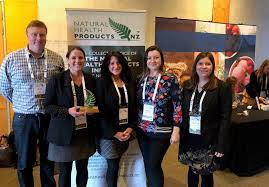 Natural Health Products NZ's General Manager Kerry Warn says Alaron Products has developed an excellent reputation during nearly 30 years of custom manufacturing nutraceutical products.
"Alaron has a high standard for quality control, and continuously strives for success and supports clients to deliver premium quality products to worldwide consumers. They have developed a reputation for providing exemplary customer service and high-quality products.
"Alaron's ongoing success in our Supplier of the Year this event shows the extent to which they get it right on every level."
Alaron's General Manager Business Development Claire Quin says the third consecutive win is a very proud moment for the company.
"Everything we do is with our customers in mind and the fact that our customers recognise our team's efforts is truly rewarding.
"Our team is focused on meeting customers' needs and it takes a big effort from all aspects of our supply chain to make that happen."