A major waste-to-energy project incorporating GWE RAPTOR anaerobic digestion technology available throughout Australasia has been honored as a Finalist in this year's American Biogas Council Industry Awards.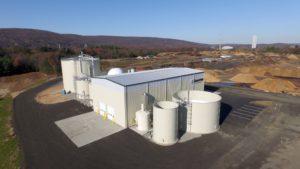 The Quantum Biopower organic-waste-to-energy project in Connecticut USA began producing biogas this year that will be used to generate electricity, demonstrating financial and environmental benefits achievable locally and globally by converting up to 40,000 tons of organic waste annually into environmentally harmonious green energy and dry bio fertiliser.
The RAPTOR technology is one of a suite of GWE clean water/green energy technologies represented in Australasia by CST Wastewater Solutions, which already has successful GWE technology installations operating locally in the food, beverage and agribusiness industries. including meat processing and other industries with a biological waste stream.
CST Wastewater Solutions Mr Michael Bambridge says the latest award for GWE anaerobic technologies shows their effectiveness and versatility for not only many more industrial uses, but also for municipal applications.
The Quantum Biopower plant, serving the central Connecticut region, incorporates its GWE RAPTOR rapid anaerobic digestion system at the heart of its process that harvests mixed organic wastes for conversion into enough biogas (primarily methane) to generate 1.2 MW of electricity and up to 5.6 tons a day of dry bio fertiliser.
The Finalist award to the Quantum Biopower project in October follows other major waste-to-energy awards for technologies represented by CST Wastewater Solutions, including one earlier this year for a project incorporating GWE technologies into the world's largest integrated pineapple operation, Del Monte Philippines Inc. (DMPI), which won the Best Water and Wastewater Solutions Provider honor at the Asian Manufacturing Awards.
RAPTOR technology has also won a global environmental engineering from the Institute of Chemical Engineers (IChemE), which represents more than 40,000 chemical engineers worldwide.
This latest honor for Quantum Biopower is a major achievement, because the American Biogas Council represents the entire US biogas industry, including more than 200 companies who are dedicated to maximising the production and use of biogas from organic waste.
An enormous advantage of this type of green energy is that it transforms an environmental problem into a profitable resource. Rather than having to pay to dispose of organic trash – or having it rot in landfills or create community odor issues and environmental hazards – this process converts virtually any organic waste into a profitable asset.
This very successful Quantum Biopower plant, incorporating the latest RAPTOR waste-to-energy technology, illustrates the huge benefits available to virtually any application producing a biological waste stream, including municipal or industrial facilities, food and beverage processing plants, or agribusinesses.