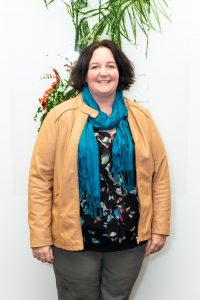 DairyNZ congratulates passionate environmentalist, Taranaki dairy farmer Trish Rankin, on becoming the 2019 Fonterra Dairy Woman of the Year.
"This is a very well-deserved recognition of Mrs Rankin's commitment to dairying, her passion for environmental work on farm and the multiple roles she plays in the sector and community," DairyNZ chief executive Dr Tim Mackle says. "We are very lucky to have Mrs Rankin involved in a number of key initiatives with us that are making a difference."
Mrs Rankin is a DairyNZ Dairy Environment Leader (DEL) – a group of farmers who work to achieve better outcomes for the environment and farming. They make things happen in many areas such as water quality and assist other farmers to improve their environmental performance. They are active in their communities at grass-roots level in different ways, such as on boards and local committees. Mrs Rankin is the chair of the Taranaki DEL group.
Among a wide range of roles, Mrs Rankin is a contractor to DairyNZ as a Dairy Women's Network module developer, a NAIT technical user advisor, and is involved in the Dairy Industry Awards.
In 2018 she was elected onto the National Executive for the NZ Dairy Awards and last year was selected as a DairyNZ Climate Change Ambassador as part of the Dairy Action for Climate Change. DairyNZ Climate Change Ambassadors are a group of 15 farmers throughout the country who work with farmers to build their understanding of climate change, and they also provide a farmer voice.
"Mrs Rankin is always involved in things that are going to benefit the dairy sector, the environment and the community," Dr Mackle says. "She is also keenly interested in contributing to the public perception of dairying."
As well as being a part-time teacher, Mrs Rankin and her husband Glen sharemilk 450 cows in South Taranaki for Māori Corporation Parininihi ki Waitotara. They won the Northland Share farmer of the Year award in 2016. The couple have a strong focus on profitable production on their farm.
Mrs Rankin was announced the recipient of the prestigious dairy award at the Allflex Dairy Women's Network's conference.
DairyNZ also wishes to congratulate the other finalists – Fonterra Shareholders' Councillors Julie Pirie and Emma Hammond, and former Shareholders' Councillor Kylie Leonard.