Andrew Kearney has won the Hawke's Bay Young Fruit Grower 2015 competition, defeating eight other contenders from around the region.
Andrew, 26, who works at T&G Pipfruit as Senior Leading Hand, has won the Horticentre $1,000 cash prize, a T&G Pipfruit NZ sponsored prize package trip to Nelson, including accommodation and airfares, PickMee Education Prize and Fruitfed Supplies wheelbarrow of merchandise. As a Young Grower of the Year finalist, he also wins a one-day media and presentation course in Auckland and an all-expenses paid trip to Christchurch to compete for the national 2015 National Young Grower of the Year title, run by Horticulture New Zealand, in August.
"The competition was a real test of the experience I have gained throughout my career so far. The other guys put up some real stiff competition and really knew what they were doing so I had to be on the front foot during every challenge," said Andrew.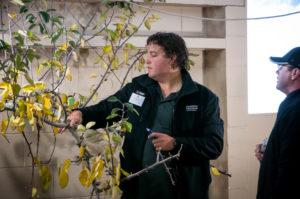 Nine young fruit growers battled it out over a two day event. On Friday 5 June contestants went head-to-head in a series of theoretical and practical challenges at the Hawke's Bay A&P Society Showground in Hastings, which tested the skills required to run a successful fruit growing business. On Saturday 6 June they were challenged to give a speech on a unique, fruit-growing related, current affairs topic in front of an audience of 190 guests at the Awards Evening at the Mission Estate Winery.
"It's a really great feeling to have taken the top prize today against a bunch of really talented guys," said Andrew. "These competitions are a brilliant opportunity for any young grower in New Zealand to both test their skills and prove their capabilities to the industry. I would definitely recommend it to anyone serious about progressing their career in fruit growing."
"We are incredibly pleased with the results this year. This is the 11th year we have run this competition and it is a great testament to the industry in Hawke's Bay – each year we see a large group of outstanding young growers throw their hat into the ring and produce some impressive results," said Lesley Wilson, President of the Hawke's Bay Fruitgrowers Association.
"After a close competition against eight competitors, I'm confident Andrew will give young growers from the rest of the country a real run for their money at the national competition."
Lewis Houkamau (29) from Freshmax Orchards was placed second, and Dillon Green (24) from T&G Pipfruit took third place.