New Zealand sales of Westgold butter have just soared past the three million mark, on the back of a consumer shift towards more natural fats.
Produced in Hokitika by Westland Milk Products, Westgold is marketed as the 'everyday gourmet butter'. It appeared in nearly a quarter of Kiwi fridges last year, and Westgold's salted butter was the third most purchased butter in North Island New World supermarkets, according to recent Nielsen data.
The three million sales milestone has been achieved in just three years, following the product's domestic launch in 2015. Westgold has only two ingredients – cream and salt.
Recent reports indicate that demand for butter, cream and other dairy-rich products continues to increase globally, in line with consumers' renewed taste for natural fats.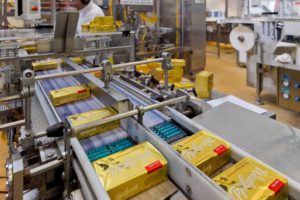 International retail butter sales are expected to expand by 2.9 percent to (US) $19.4 billion in 2018, outpacing the 1.9 percent growth in sales volumes, according to Euromonitor International.
Westland General Manager Marketing and Innovation Hamish Yates says discerning consumers appreciate the fact that not all butter is created equal.
"Globally, we are seeing an increasing consumer demand for natural, wholesome foods, and a return to the simplicity that products such as butter offer," says Hamish.
"Westland is proudly owned by our shareholders, the vast majority of whom farm on the West Coast.
"The West Coast has New Zealand's highest proportion of jersey and jersey-cross cows, which are renowned for producing milk high in butterfat. We think this, combined with our traditional churning technique, helps make Westgold butter so special.
"We also find that there is a real appeal for the West Coast from North Island customers, who associate the region's rugged beauty with a more natural product," adds Hamish.
One of Westland's farmer shareholders is John Marshall. Along with his partner Anna, John milks 180 cows on their 152-hectare farm in Moana, situated 30 minutes inland from Greymouth. Their milk is used to produce Westgold butter.
"There is a sense of pride and ownership in seeing the end product on the shelves, and knowing that you helped play a large part in its success," says John.
"Westgold's three million milestone was achieved extremely quickly, which just goes to show the consumer demand is there. It's an amazing achievement in a highly competitive, commoditised market."
Environmental sustainability is core to the Marshall's farming system.
"Quality, lush pasture is key to producing premium dairy products," says John. "We prefer to run a biological system which, while not organic, is largely free from sprays and chemical fertilisers. This is part of our commitment to limit our impact on the environment."
Westgold is produced in Hokitika using the Fritz Churn process, which is derived from traditional batch-churning methods.
Westland's butter makers have spent an average of 20,000 hours, or 10 years, producing butter – with one staff member making butter for more than 50 years.
Butter Production Manager Dean Robinson, who has just marked 30 years' service, says the company has more accumulated knowledge than any other butter producers in the country.
"We have a strong tradition of making butter on the West Coast that dates back to 1893," says Dean.
"The process has been refined over generations to become both an art and a science. We combine modern facilities with traditional craftsmanship to produce a premium product.
"After making butter for so many years everyone has developed an eye for it and instinctively knows when it is right, without relying on automation."
Westgold was first launched in 2004 as an export consumer brand. More than eight million blocks are sold into international markets each year, including Australia, China, Singapore, South Korea and Azerbaijan. This figure is set to increase with the development of new markets and product sizes to meet growing consumer demand.