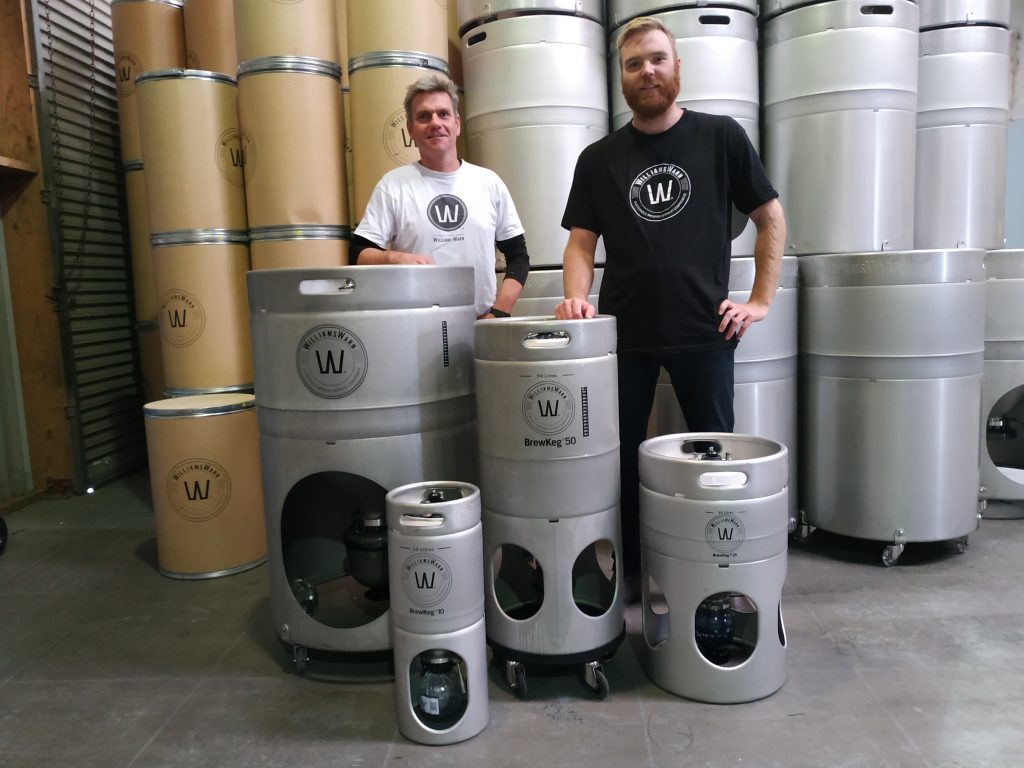 Sam Wood (left) and Willy Cowper.
-Aaldert Verplanke
Brewing your own beer is a challenge for most people and more known for the disasters than the good "batch". This story is about Kiwi ingenuity, passion, perseverance, believing in the product and a "sustainability" philosophy.
Ian Williams is a brew master and has travelled the world practicing his trade. Encouraged by his uncle to come up with a "fail proof" brewing kit for home brewers, Ian spent about 2 years developing the process and ingredients to produce high quality beer at home.
When he finished his first prototype, it was time to consider manufacturing a saleable product. He took the design to Sam Wood at ATI engineering in Hastings to manufacture the brewing appliance. Sam was keen and thought, "great – all the design and development work is done; now we just have to make it."
However, to get to a sellable product it took another year and a half. Producing an appliance that involves heating, cooling and pressure, has lots of challenges. Keeping the cost down was one of them, and still is.
The WilliamsWarn BrewMaster was finally created, capable of producing consistently good beer with ingredients supplied by WilliamsWarn.
This would not have happened if it were not for NZ and overseas investors who believed in the product – Sam had also become a shareholder.
However, the small number of appliances produced meant that costs were prohibitive, so the decision was made to design a lower cost product that could be manufactured offshore using mass manufacturing techniques not available here in NZ.
A complete rethink and redesign by Sam resulted in the introduction of the BrewKeg™ that is now produced in four different brew batch sizes, from a small 10L homebrew kit up to 150L for the microbreweries.
It is based on the trusted old beer keg used all over the world in pubs, but utilising proprietary tooling and design owned by WilliamsWarn. The main principle of the brewing process is maintained, an enclosed pressurised process all done in one vat with the ability to remove yeast sediment.
This breakthrough in the fermentation process created the need for good quality ingredients to ensure the quality of the beer produced was equal to or better than commercial beer.
New Zealand has the ideal climate to grow the grain and hops and a large proportion of the ingredients are manufactured here in concentrated and dehydrated form.
WilliamsWarn is constantly working on new and improved ingredient formats to enable brewers all over the world to make top brew. To start brewing you only add your local water! The hardware is also made to last, all components used are top quality as the WilliamsWarn company is fully behind the idea of sustainability.
The whole idea of this brewing concept fits with the trend to reduce the carbon footprint. Transporting beer that is mainly water does not make a lot of sense.
The company's long-term vision is to control the ingredient supply from grain to glass while reducing transport and packaging within the brewing industry by only selling beer into re-usable containers.
Recently, the company was asked to produce a product that would reduce the need for packaging of a food product.
This idea is still under development, but could take the company into a different direction, creating a wide base for sustainability.
So, one bright idea could result in three different product streams manufactured and grown in NZ, creating products that are exported all over the world. At present the main export market is Australia, but they have representatives in France, Denmark, USA, India, Africa and the UK.
Covid-19 has increased interest in their brewing products as people want more self-sufficient products that promote local content.
You can find out more about these passionate people on https://williamswarn.co.nz/
Finally, after 5000 years of brewing, WilliamsWarn have created the technology to allow you to brew the perfect beer at home.