Passion for farming and their animals runs blood-deep for David and Pip Fullerton, who are world-renowned for their international genetics work with Holsteins and are also one of New Zealand's top-producing farms.
Little-known in New Zealand for genetics, but significant players in the world Holstein breeding game, the South Waikato-based couple have farming roots in the area that date back to the turn of last century. Pip's side of the family have been working the land on which they still operate since 1903, with David's farming roots beginning down the road in Ohaupo, in 1930.
Today the Fullerton's 220 hectare block named Waipiri is home to 500 milking cows. Pip and David have farmed it together since 1990 when it was converted from drystock. Over the last 10 years, Waipiri has boasted the highest-yielding herd in New Zealand four times, and remains consistently at the top.
Waipiri's highest-producing season was 300,000 milk solids, dropping to 260,000 during the past two years as a result of drought.
With a passion for genetics that started when David was 13, it has seen him strive for perfection and betterment ever since. It has also seen him travel the world in search of the best-quality cattle.
David sees genomics and production going hand-in-hand, with dedication and hard work paying dividends both ways.
"They're inclusive. It's in your best interests to have your cows doing well, as the international market works on high yields."
Rearing 400 calves throughout the year, including 180 replacement heifers, David has specific goals and systems for each. All export bulls and embryos are also sourced from their own herd.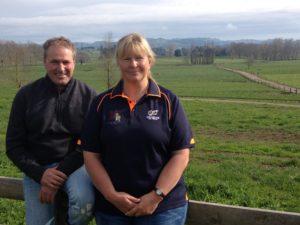 "We're always looking for new genetic families to bring into the herd and make a difference. Most of our herd is full international pedigree. We breed cattle for milk and protein and international genetics, which means we need to grow out the best animals possible. That means you've got to have targets in mind.
"Most of our heifers are in excess of 600kg at first calving – that's our goal. But that means you have to push from day one in the shed, through transition, right the way through summer, autumn, and the following winter. It's all crucial – you can't afford to have too many bad days.
"And it all stems back to good farming practices, there's no secrets."
For Waipiri's Holsteins, many of which have origins in North America, protein is key for development.
"Holstein cattle thrive on protein. If you want to grow them out to 600kg, they need plenty of both fibre and protein. Our animals are reared on Fiber Fresh, which is lucerne based and extremely high in digestible protein.
"We've used it for a number of years and it's been a good partner feed for our calves, they love it and we love it because it's what grows them. It's also quantifiable and easy to manage.
"The best stock I've ever seen – and I've travelled all over the world – have been reared on high protein diets."
David also feeds his export yearling bulls Fiber Fresh while they're in transit.
"Our bulls are fed Fiber Fresh before, during and after being shipped offshore, because it's compact, palatable and it's good to eat – even on a plane. And you know that every mouthful is giving animals a good-quality feed."
David believes it all comes down to coaching calves to eat as much as possible for future benefits, and that farmers and graziers shouldn't hold back if animals need more.
"You get them to eat more by feeding them more. From transition onwards, it's about coaching them to eat large amounts, which will see them develop out to their full potential. If you do a good job of that, the heifers do a good job of calving.
"If you don't have a good product to start with, you won't have a good product at the end."