Alamir bakery is a family owned business in Miramar which has been making authentic Lebanese food since it started out in 1992. The company distributes its hummus, falafel bites, pita bread and chips to supermarkets, restaurants and cafes throughout the country.
Commentary from Ali Dia – Managing Director of Alamir Bakery
Our parents Jamil and Waafa immigrated to Wellington from Lebanon in 1990 due to the war. I was just 8 months old and at that time my brother would have been two years old. My other two brothers were born in NZ.
When my parents first arrived my dad had heaps of different jobs – at one stage he was a driver for the Iranian Embassy and my mother ended up becoming the caterer for the embassy because my father invited some people from the embassy to come for a meal at our house one day and they fell in love with my mother's hummus and they asked mum to cater all the meetings for 1.5 years.
My parents started the business after they were encouraged by the founder of Mexican Corn Chips (who is also Lebanese) to sell our hummus to supermarkets.
Our parents started the business in 1992, making small batches of hummus and falafel in a little commercial kitchen at the back of our house in Miramar, Wellington.
At this point the "Alamir" name wasn't born yet – we were still trading as 'The Delicious Lebanese Snack Co Ltd', distributing to local Supermarkets, Restaurants and cafes.
Slowly the product range grew and our father (and let's be honest, our mother!) began thinking about how else can we spread our natural-and-full-of-flavour "super food" to everyone!
In 2001 we opened 'Alamir Bakery' and started making traditional Lebanese Pita Bread and all types of Lebanese food; from kebby to pizzas to kebabs, in a small takeaway-style shop.
Being so close to our customers, we really started to notice how much Kiwis love Lebanese food and great quality produce. We knew we were onto a winner – we were going to need a bigger space! That's when we moved into our current premises in the Miramar Metro in 2006.
'The Delicious Lebanese Snack Co Ltd' has since merged with 'Alamir Bakery'. We are now one business providing the country with "delicious Lebanese snacks and baking", and Wellington residents with fresh and authentic Lebanese food.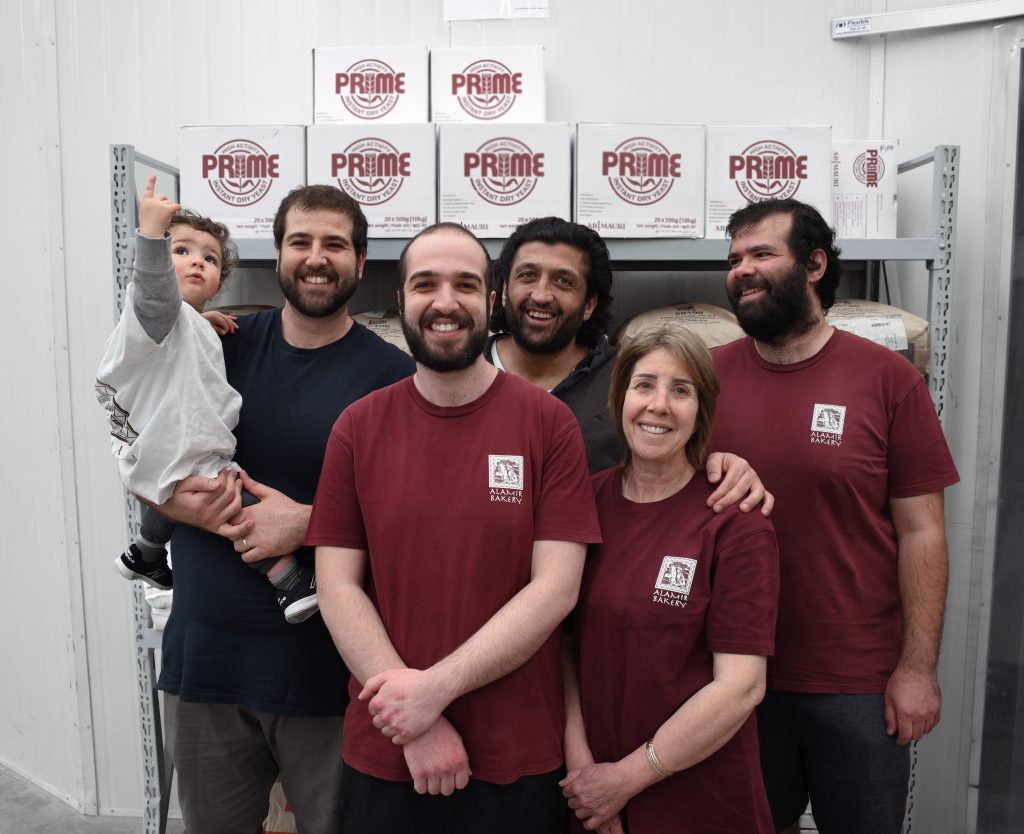 Bread got out of hand with growth so we had to move to a factory Park Road in Miramar in 2013 – plus we wanted to separate it from gluten free hummus.
Today we make falafel bites, hummus, pita chips and bread to 160 Foodstuff supermarkets nationwide, 124 Countdown stores nationwide and more than 100 restaurant/cafes and other retailers.
What is Alamir Bakery's point of difference?
We make our own product meaning we don't outsource a factory to produce our food for us. Everything is from raw ingredients so we start from scratch. Raw chickpeas, all our spices are mixed on site and our tahini is sourced from Lebanon.
It's 100% family run and owned. We use the same recipes our mother brought over from Lebanon 30 years ago. That was passed down from their family so this recipe has been passed down for generations. Biblical times. 
Our hummus is made up of authentic ingredients – no fillers, preservatives, sodium. Other hummus products in supermarkets have approx 15-20 ingredients and they put thicknesses in and flavourings to increase shelf life because it's much cheaper to make. Our ingredients are simple Chickpeas, tahini, garlic, salt and lemon.
Our hummus lasts 21 days, other brands last 3-4 months.
There is a huge difference in taste – you can tell hummus if it's filled with water (watered down).
As far as we are aware, no other brands make hummus from raw ingredients – we use raw chickpeas and soak them overnight. Other companies use canned chickpeas.
They also don't use tahini, they use oil instead. You can't make hummus without tahini!
We have ended up being vegan, celiac approved just by following the traditional hummus recipe – we haven't changed anything, we don't add any fillers/flavours – it's an original raw recipe that has passed down from our family since biblical times in Lebanon. And it's good for you! It's preservative free,
Describe the growth of your business since it was formed 27 years ago.
It's been running the same way for 27 years but it has grown a lot. We now have 30 employees.
For the hummus we used to do one batch a week and that was only 25kg of chickpeas that would turn into 150kgs of hummus and now we are doing double that on a daily basis!
15 years ago we were Wellington only and not in every supermarket – we were in 6 supermarkets and a few restaurants
10 years ago we grew that to almost all of Wellington – most Foodstuffs and Four Squares, and most Countdowns. We didn't have an online presence at all and we weren't supplying to companies providing bulk to restaurants/supermarkets (Bid foods etc) – solely just supplying, delivering, merchandising and doing orders all ourselves to supermarkets.
5 years ago – in most of the country supplying our pita bread to Pita Pit. We were still doing the ordering ourselves and direct delivering until just a month ago. We now have a distribution company on board – we don't do any of the deliveries ourselves.
Why did we do this? The distribution costs went through the roof – we were paying per delivery for each supermarket (170 outlets) it was difficult to manage too – instead we now send to 3 different depots – one in Christchurch, Palmerston and one Auckland.
By bringing this distribution company on board, overnight we gained 32 new Countdown supermarkets because they were able to order below the minimal amount (if you ordered directly through Alamir Bakery had to be 24 per box) but through the distribution company they can order in small amounts so this has really expanded our growth significantly. 
We are in 170 supermarkets, all Pita Pits in New Zealand (except Auckland) We are in 65% Foodstuffs and 65% Countdown
We have gained 3 new contracts. Through Hello Fresh, Foodbox, andour first international client Radix Nutrition – they supply readymade meals for nutrition conscious people (food allergies and dietary requirements such as lactose, celiac, IBS)
Where do you want to be in the next 5 years?

We want to see our full range of products across all supermarkets in New Zealand, and tap into Pita Pit Auckland market.
We want people to be more aware of our products – it's not only delicious but it's good for you. 
We are going to be doing more brand awareness and going to every store and doing tastings so people can experience our products. We have had very little profile.
How has Covid impacted your business?
We did drop 40% in Covid – Pita Pit closed completely as did the cafes and restaurants. We were lucky to have the Supermarkets as it kept us moving. In fact we had a huge uptake of online orders and in the first couple of weeks (due to panic buying) demand for our falafel bites went through the roof!
What product are you particularly proud of?
I am very proud of our falafel – it is really hard to make with raw beans and vegetables and fresh vegetables – all that grinding and packing – a hard process
When my dad was working in the business during the 1990s we had people lining up to taste falafel in the local supermarkets. It went down so well people actually thought they were eating meat! Since then the product has blown up – everyone knows what falafel is. We have grown from producing falafel one day a week to every day a week – NZ's are consuming a lot of falafel.
What is your most popular product?
The Pita Bread. We are only in Wellington supermarkets with our pita bread but the numbers are huge. It is hard to keep the bread fresh if we distribute outside of wellington – we really need another factory or distribution line to take the bread.
Once we expanded we had to move the pita bread production to a different building (up the road from the factory in Miramar). We also wanted to keep the gluten away from the hummus production.
What has been your biggest challenge?
I would say brand awareness and getting the word out there about our authentic products. The fact that it's family run and growing so quickly can also be a challenge at times.
My 3 brothers and I have had to learn a lot – from managing staff, distribution, vehicles it's definitely a headache and there have been obstacles. On the positive side, we all have different mindsets and skill sets – we work well together and things get done.
We are all directors of the business. I am the owner/operator, my younger brother Eassa looks after online orders and deliveries, my oldest brother Abrahim works in production and my other brother Hassan helps with accounts.
My father Jamil has retired from the business. Our mother Wafaa is still very much involved in the big decisions – all the recipes are hers and even when we come out with a new recipe we get her input – even in the process of making it. We are the head and she is the neck and she controls which way we are turning and looking.
How long have you been involved in the business?
I worked in the kitchen helping through primary, intermediate and college. Then I went to Otago Uni to study surveying. It didn't work out so I went into building and attended Otago Polytechnic where I completed my building trade course.
I then worked for a couple of years in Wellington as a builder before Alamir Bakery needed me as the business was growing so much.
I was doing 40 hours a week building and then helping at the bakery in the evening and weekends.
What business advice do you have for other businesses in your field?
If you really believe you have a good product stick to it but also market it and get it out there so people know who you are and what your product is all about.